Alaska Marine Highway System Ferry M/V Columbia
The M/V COLUMBIA is the largest vessel of the Marine Highway fleet. Launched by Lockheed Shipbuilding in Seattle in 1974, the Columbia is 418 feet long, with capacity for 625 passengers and 134 vehicles (20″ lengths). It is also the fastest vessel, operating at a service speed of 17.3 knots. Its 91 total cabins include 60 four-berth units, nine 3-berth units, and 22 two-berth units. The Columbia boasts both a fine dining room and a cafeteria. The gift shop, cocktail lounge, solarium, and forward observation lounge round out the passenger amenities.
Tom and his team did extensive weld repairs and cleaned the HVAC system on the Columbia in 1993 and 1999. He removed 26 garbage bags full of dirt.
Ketchikan Coast Guard Base
USCG Station Ketchikan is at the Gateway to the Alaskan frontier and the Seventeenth Coast Guard District. Ketchikan is the southernmost and fourth largest city in Alaska. Welcome to Alaska"s 1st City: Ketchikan, the Salmon Capital of the World Ketchikan is Alaska"s First City and is known as the Salmon Capital of the world. The city is located in the nation"s largest national forest, the Tongass, which encompasses 17 million acres. The Station was established in 1989 and is one of three Small Boat Stations in Alaska, the others are Station Juneau and Station Valdez. We are co-located with Integrated Support Command (ISC) Ketchikan with other activities on the base including Electronics Support Detachment (ESD), USCGC Acushnet, a
medium endurance cutter, USCGC Naushon, a 110 foot Patrol boat and Industrial services who maintain a vessel haul out for all Alaska cutters 110 feet and smaller and a Bouy depot for repairing Aids to Navigation. Before being commmisioned as a Station in 1989 the Station was a "SAR Locker" as a division of Base Ketchikan going back as far as the 1940″s when the first small boats arrived here.
Coast Guard guys and gals we offer all types of lodging, Rentals, Bed & Breakfast, Vacation Rentals, Leases, month to month
Ketchikan Post Office
The United States Post Office (U.S.P.O.) was created in Philadelphia under Benjamin Franklin on July 26, 1775 by decree of the Second Continental Congress. Based on the Postal Clause in Article One of the United States Constitution, empowering Congress "To establish post offices and post roads," it became the Post Office Department (U.S.P.O.D.) in 1792. It was part of the Presidential cabinet and the Postmaster General was the last person in the United States presidential line of succession. In 1971, the department was reorganized as a quasi-independent agency of the federal government and acquired its present name. The Postmaster General is no longer in the presidential line of succession. The U.S. Postal Service does not actually have an official motto. It is frequently assumed that the motto is: "Neither snow nor rain nor heat nor gloom of night stays these couriers from the swift completion of their appointed rounds." However, this inscription was placed on the General Post Office building in New York by the architects and is not their official motto.
Tom cleaned the HVAC system in the Ketchikan Post Office in 1999. He removed 14 garbage bags full of dirt that was mostly paper dust.
Ketchikan General Hospital Surgery
Ketchikan General Hospital is a critical access and long-term care facility providing a variety of services including comprehensive trauma, inpatient (25 beds), outpatient, and home health services and a long-term care facility (29 beds). Located on an island 680 air miles from Seattle, Washington, Ketchikan General Hospital is more self-reliant than most small rural hospitals found in the "lower 48." Among the services available at Ketchikan General are Diagnostic Imaging including CT, MRI, Nuclear Medicine, and digital mammography, an Intensive Care Unit, home health, physical and occupational therapy, an accredited cancer care program, up-to-date technology and medical equipment, an emergency physician and staff on site 24 hours a day, a phase II cardiac rehabilitation program, and diabetes education.
Tom cleaned the HVAC system in the Ketchikan General Hospital Surgery in 2008. Due to the excellent maintenance by the hospital staff very little dirt was found in the KGH ducting system
The R.J. Elementary and the Charles Leask Middle School on Annette Island
Annette Island High School, Metlakatla. Metlakatla is from Maxlakxaala, a Tsimshian word meaning "Salt Water Passage." Metlakatla was named after another village of the same name ("Old Metlakatla") in British Columbia, which is on Metlakatla Pass, near Prince Rupert. The Metlakatla Indian Community is the only remaining native reservation in Alaska. Metlakatla is located on Annette Island in the Alexander Archipelago in Southeast Alaska, 15 miles south of Ketchikan.
Tom cleaned the HVAC system in the schools on Annette Island in 1998. He removed a total of nine garbage bags full of dirt.
Hydaburg Elementary, Middle
Hydaburg High School
Hydaburg founded in 1912 and presently reporting a population of 380, is located on the southwest coast of Prince of Wales Island. Its fascinating history can be traced back to the 1700s, when Haida Indians came to Prince of Wales Island from Graham Island, located off of British Columbia. Three Haida villages, Sukkwan, Howkan, and Klinkwan, combined in 1911 in order so that their children could attend school. The next year it was designated as the Hydaburg Indian Reservation. A trading company, sawmill, and village store were soon to follow. In 1926, the land was redesignated to its former status as Tongass National Park but close to 200 acres were set aside for the school and the surrounding town. A fish processing plant and three
canneries were opened in the late 20″s and 30″s. The amending of the Indian Reorganization Act in 1936 to include Alaska Natives, allowed Hydaburg to be the first village in Alaska to form an IRA Council. Hydaburg continues to flourish and today boasts the highest population of Haida in Alaska. Much of the lifestyle centers around subsistence hunting and fishing, and traditional arts such as wood carving and weaving are still a way of life.
Tom cleaned the HVAC system in the Hydaburg Elementary Middle and high school in 2005. The system was well maintained, Tom only found nine garbage bags full of dirt.
Ketchikan"s Schoenbar Middle School 217 Schoenbar, Ketchikan AK, 99901 (907) 225-5138 Total Students: 316 Student-teacher Ratio: 16:1 District: Ketchikan Gateway Borough S.d. Grades: 7 – 8
Tom cleaned the HVAC system in the Schoenbar Middle School in 2007. The system was in poor shape after the remodel. Tom removed 20+ garbage bags full of dirt.
The Sitka State Building
The City and Borough of Sitka is a unified city-borough located on the westside of Baranof Island in the Alexander Archipelago of the Pacific Ocean (part of the Alaska Panhandle), in the U.S. state of Alaska. With an estimated population of 8,986 in 2005,[1] Sitka is the state"s fourth-largest city by population in Alaska and the largest city in the United States by area. The name Sitka (derived from heet'ká, a contraction of the Tlingit name Shee At"iká) means "People on the Outside of Shee," Sheet'-ká X"áat"l (often expressed simply as Shee) being the Tlingit name for Baranof Island. The town is sometimes referred to as "Sitka-by-the-Sea."
Tom and Sharolyn cleaned the HVAC system in the Sitka State Building 2003. They removed nine large garbage bags full of dirt.
Alaska Marine Highway System Ferry M/V MALASPINA
Malaspina The M/V MALASPINA carries 500 passengers, and provides 53 four-berth and 30 two-berth cabins. The vessel was built in Seattle in 1963 at the Lockheed Shipbuilding yards, then lengthened and renovated in 1972 at the Willamette Iron and Steel Company shipyard in Portland. The Malaspina is now 408 feet long, with capacity for 88 vehicles (20″ lengths), and a service speed of 16.5 knots. Passenger services include a cafeteria, gift shop, cocktail lounge, solarium, and forward observation lounge.
Tom did extensive weld repairs on the in 1994 and 1999. He removed 26 garbage bags full of dirt.
The Sitka Fire Hall
The Sitka Volunteer Fire Department consists of approximately ninety volunteers and ten paid positions. Operating within the department are three distinctly different divisions which include Fire, EMS, and Dive. Each division is headed up by a Captain. The Sitka Volunteer Fire Department covers one of the largest City and Borough's in the country (per square mile) yet has no mutual aid, so the members must be self reliant. The department handles approximately thirteen hundred calls a year. This department would not exist if it wasn't for the dedicated volunteers of Sitka.
Tom cleaned the HVAC system in the Sitka Fire Hall in 2007. He removed smoke and construction debris.
Ketchikan"s Salmon Landing
Tom installed the HVAC system in the Salmon Landing in 1997.
Welcome to Fawn Mountain Elementary School, home of the Eagles. Fawn Mountain is a Pre-school through Grade 6 school located approximately 4 miles south of Ketchikan. Fawn Mountain was constructed to replace White Cliff Elementary School. Fawn Mountain School opened its doors to students in January of 2006.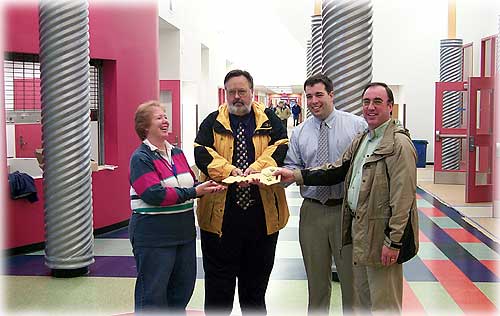 the $12 million dollar Fawn Mountain Elementary School located near Mountain Point on the South Tongass Highway was completed between March and December of 2005.
Borough Manager Roy Eckert (right) presents the"Key" To Fawn Mountain Elementary School to Fawn Mountain Principal Barbara Roberts, Superintendent Harry Martin, and School Board President Russell Thomas on December 22, 2005.
Photograph by Dave Lieben ©2005
Tom installed the HVAC system in the Fawn Mountain Elementary School in 2006.
Ketchikan Airport Terminal
The history of Ketchikan International Airport starts before W.W.II. Air travel to Ketchikan was via Grumman Goose from the old military airfield on Annette Island. Many Ketchikan residents wanted an airport closer to Ketchikan and in 1965 the Alaska State Division of Aviation contracted for a site study of the areas around Ketchikan. In 1967 another more detailed study was done and Gravina Island was chosen as the best site. Clearing the land began in 1969. The runway, taxiway and aircraft parking areas were funded by State and Federal money, and Ketchikan Gateway Borough voters approved a bond for the Terminal building, utilities and related facilities. The official opening dedication for Ketchikan International Airport was August 4 & 5, 1973. The MV Oral Freeman The Transportation Services Department of the Ketchikan Gateway Borough operates and maintains the Airport Ferry System. The system provides transport for passengers and freight between the airport, which is located on Gravina Island and Ketchikan, which is located on the other side of the Tongass Narrows, on Revillagigedo Island. The ferry leaves the Ketchikan side of the channel on the quarter hour and the airport side on the hour and half hour.
Tom cleaned the HVAC system in Ketchikan"s Airport Terminal. They removed nine large garbage bags full of dirt, mostly bugs. The air intake is near a powerful light that attracts many bugs from the nearby swamps.
Ketchikan"s Landing Hotel
Best Western Landing Hotel his Ketchikan, Alaska hotel featuring two onsite restaurants and convenient access to Gravina Island and Creek Street Historic District. 3434 Tongass Avenue, Ketchikan, Alaska, 907/225-5166
Tom installed the grease duct in the Landing Hotel and restaurant.
Ketchikan"s Safeway store
In 1915, M.B. Skaggs, an ambitious young man in the small Idaho town of American Falls, purchased a tiny grocery store from his father. M.B."s business strategy, to give his customers value and to expand by keeping a narrow profit margin, proved spectaculary successful. By 1926 he was opening 428 Skaggs stores in 10 states. M.B. almost doubled the size of his business that year when he merged his company with 322 Safeway (formerly Selig) stores. Two years later M.B. listed Safeway on the New York Stock Exchange. M.B. did not let the difficulties of the Great Depression dilute his pioneering focus on value for customers. In the 1930s Safeway introduced produce pricing by the pound, opening dating on perishables to assure freshness, nutritional labeling, even some of the first parking lots.
Tom installed the kitchen hoods in the Safeway store.
The Tongass Federal Credit Union Ketchikan
Tongass Federal Credit Union continues building its operations and services to the people of Southern Southeast Alaska. We are the community credit union on Revillagigedo Island (Ketchikan), Annette Island (Metlakatla), and Prince of Wales Island (Thorne Bay).
Founded in 1963 by a group of teachers and public employees, and soon joined by hospital workers, the credit union in the early days had humble beginnings. Originally it was a desk in the School Superintendent's Office, as members pooled their money to provide capital (savings) and made loans to each other.
This concept of "People-Helping-People" still drives credit unions today as not-for profit financial cooperatives.
Tom cleaned the HVAC system in the The Tongass Federal Credit Union. Tom found a source of fiberglass that was getting into the air stream.
The Trident Bunkhouse in Ketchikan
Trident leads the Alaska seafood industry in the production of crab, canned sockeye salmon, and frozen Bristol Bay sockeye. Trident also ranks among the state"s top five producers of pollock, cod, herring, and canned pink salmon. But the company has not forgotten its roots. "Make no mistake, our success begins with the fishermen," Bundrant says. Evidence of that partnership lines the walls and covers the bulletin boards through the firm"s Seattle headquarters. Scores of photographs pay tribute to the strength of the vessels and the determination of the fishermen who literally put their lives on the line to bring fresh product to the company"s Alaska facilities. Trident operates seven major primary processing plants in Alaska, including a Southeast pink salmon cannery in Ketchikan; Bristol Bay sockeye salmon canning and freezing operations in North and South Naknek; and diversified processing plants handling Alaska pollock, Pacific cod, Black cod, halibut and crab in Akutan, Sand Point, Kodiak and St. Paul. With the acquisition of the Tyson Seafood Group assets in 1999, primary processing plants for groundfish were added in Kodiak, Alaska, Newport and Oregon. Included also was a fleet of factory trawlers and fishing vessels that have greatly added to the production of groundfish fillets, blocks, surimi and roe.
Juneau"s Japanese Steak House
The originator of the teppanyaki-style steakhouse is the Japanese restaurant chain Misono, which introduced the concept of cooking Western-influenced food on a teppan in Japan in 1945. They soon found that the cuisine was even more popular with foreigners than with the Japanese, who enjoyed both watching the skilled maneuvers of the chefs preparing the food as well as the cuisine, somewhat more familiar than more traditional Japanese dishes. As the restaurants became more popular tourist spots with non-Japanese, the chain introduced changes increasing the performance aspect of the chef"s preparation, such as stacking round slices of onion in the shape of Mt. Fuji and lighting alcohol, usually vodka, contained within on fire, producing a flaming onion volcano. Non-tourists in Japan rarely eat at teppanyaki restaurants that feature western type of food as most of the ingredients are not part of the Japanese dietary system. The teppanyaki widely frequented by the Japanese are those which feature Okonomiyaki, Yakisoba or Monjayaki which are very popular in Japanese cuisine.
Tom installed the ten grill hoods in the Japanese Steak House.
Ketchikan Indian Community Tribal Health Clinic
Tom did the smoke fire damper inspection at the ketchikan indian community tribal health clinic .
CAPE FOX LODGE
Set amidst the Tongass National Forest, the Cape Fox Lodge is a unique place to stay in Ketchikan. All guest rooms enjoy sweeping views of either the Tongass Narrows or the beautiful Deer Mountain. Our gracious structure is complemented by the area"s Native Alaskan art, featuring a totem mural carved by Nathan Jackson at the second floor mezzanine. Facing the front of the lodge is the Council of the Clans, a totem circle with six totems carved by Tlingit carver Lee Wallace. The lobby library and the second floor balcony present to visitors a truly unique artifact collection featuring Northwest Native Art.
Salmon and gold brought the first pioneers to Ketchikan where docks and canneries quickly sprang up along Tongass Narrows. Frame houses also appeared, hastily erected right over the water on steep hillsides that overlooked the emerging Creek Street red light district. The timber industry brought another wave of commerce and immigrants to the area, and by 1940 Ketchikan had grown into the second largest Alaskan town, proudly calling itself "Salmon Capital of the World." Today, floatplanes, ferries, cruise ships and sailboats dominate the Tongass Narrows. Between April and September, more than 480 ships cruise the Inside Passage and bring over 300,000 visitors from around the world to visit Ketchikan's shores. Onshore, there are lots of things for visitors to do. The craftsmanship and culture of the Native Tongass and Cape Fox Tlingits, who used Ketchikan Creek as a fish camp, thrive here and are expressed in art, dance, and traditional totem poles. In this place the Native Americans called "kitschk-hin," meaning creek of the thundering wings of an eagle, Totem Bight State Historical Park, Saxman Native Village, and the Totem Heritage Center Museum house the largest collection of totem poles in the world.To the east, Misty Fjords National Monument, accessible only by boat or plane, is Ketchikan's glacial crown jewel with spectacular waterfalls, cliffs shrouded in mist, sky-blue lakes, miles of glaciers and of course wildlife. Spotting black bear, grizzlies, moose, mountain goats and whales anywhere in the Ketchikan area is common. Majestic bald eagles are easy to find perched in shoreline trees and even on church steeples. Huge runs of trophy size salmon still migrate from the open ocean into the waters around Ketchikan, and wilderness lakes provide incredible fly-fishing for steelhead, rainbow trout and cutthroat trout. In Ketchikan itself, there is always something to do. Annual events like the Winter Arts Festival showcase Ketchikan's thriving artistic community, restaurants serve up the freshest seafood to be found anywhere and the sight seeing and shopping along Creek Street, no longer a red light district, is great. Spruce logs were commissioned by the military from the Tongass National Forest around Ketchikan for building aircraft during World War I and gliders during World War II. Howard Hughes also commissioned spruce logs from the area for building the famous Spruce Goose
Louisiana-Pacific Corp. Ketchikan Pulp Co. (KPC) in Ketchikan,Alaska
Louisiana-Pacific Corporation NYSE: LPX, commonly known as "LP", is a building materials manufacturer. It was founded in 1973 and is based in Nashville, Tennessee. Key products are oriented strand board, molding and other trimming materials, and wood siding, and other engineered wood products. As of 2005, LP has 29 manufacturing plants in the U.S. and Canada, and one near Malalhue in Chile. LP was founded in 1973 as part of a court-ordered monopoly breakup of Georgia Pacific. LP was headed by company president Harry Merlo for the first 22 years, who was known for his flamboyant style and generous civic contributions. During the 1990s, LP was the defendant in a major class-action lawsuit over its OSB siding product known as Inner Seal, manufactured from the early 1990s through 1996, due to its poor performance in humid environments. This product has since been replaced by other improved siding products. The deadline for filing suit passed in 2002. Much of LP"s growth in the 1990s came through acquisition of other building materials companies, such as ABTco in the eastern United States and Forex in eastern Canada. LP was headquartered in Portland, Oregon from 1973 through 2004, when it moved the headquarters office to Nashville. It owns the naming rights to LP Field, the stadium which houses the Tennessee Titans and Tennessee State University football teams in Nashville.
Tom did a complete reskin of the log pull at the Ketchikan Pulp Mill
Acushnet
COAST GUARD CUTTER ACUSHNET TO BE CROWNED NEXT "QUEEN OF THE FLEET" ALAMEDA, Calif. – With the de-commissioning of the Coast Guard cutter Storis on Feb. 8, 2007, the Coast Guard cutter Acushnet will be crowned the next Coast Guard "Queen of the Fleet". The title "Queen of the Fleet" is a distinction given to the oldest commissioned cutter in the fleet. Acushnet will celebrate its 63rd birthday Feb. 5, 2007. Acushnet was originally commissioned as a Diver Class Fleet Rescue and Salvage Vessel, USS SHACKLE (ARS 9) for the U.S. Navy Feb. 5, 1944. On August 23, 1946, Acushnet was commissioned as an Auxiliary Tug (WAT) in the US Coast Guard. That same year, two other U.S. Navy Diver Class vessels: the Escape (ex-ARS 6) and Yocona (ex-SEIZE ARS 26) also joined the Coast Guard fleet as Auxiliary Tugs (WAT). unlike any other ship in the Coast Guard, Acushnet has served in the Navy and Coast Guard as a Fleet Rescue and Salvage Vessel (ARS), an Auxiliary Tug (WAT), an oceanographic vessel (WAGO), and a medium endurance cutter (WMEC). It is the second Coast Guard cutter to bear the name Acushnet and will be the oldest medium endurance cutter still in operation after the Storis. While both sister ships, Yocona and Escape, have been decommissioned, Acushnet continues to serve as a medium endurance cutter in the Gulf of Alaska and Bering Sea. Acushnet"s operational history as USS Shackle includes participation in the salvage efforts at Pearl Harbor, Midway Island, Eniwetok, Guam, Saipan, and Japan. The salvage ship also played active roles in the battles over Iwo Jima and Okinawa. During WWII it earned three battle stars. Acushnet"s first homeport as a Coast Guard tug was Portland, Maine, where its crew earned a valiant reputation as a dependable friend to fishermen and boaters in distress. From 1968 to 1978, Acushnet supported the National Data Buoy Project while designated as an oceanographic vessel primarily in San Diego (1968-1971) and then in Gulfport, Miss. In 1978, Acushnet was reclassified as a medium endurance cutter primarily to enforce maritime laws in the Gulf of Mexico, Atlantic Ocean and Caribbean Sea. Acushnet crews also executed other duties, such as environmental protection, boating safety, search and rescue, and participated in the largest immigration crisis in the history of the Coast Guard, the Mariel Boat lift from Cuba. In 1990, Acushnet changed homeports to Eureka, Calif., and patrolled the West Coast from the southern waters of California to the northern waters of the Bering Sea. Acushnet changed homeport to Ketchikan, Alaska in 1998 from where it now patrols primarily the Gulf of Alaska and Bering Sea. Nicknamed "The "A" Team in Alaskan Fisheries," Acushnet is credited with handling the Alaskan environment more effectively than most other cutters even though it lacks a flight deck and modern weapons systems. Its current missions consist of homeland defense, search and rescue, and law enforcement. During the course of 60 years of service, Acushnet crews have received the following awards for exemplary service: World War II Victory Medal, Asiatic-Pacific Campaign Medal, American Campaign Medal, 2 Coast Guard Unit Commendations, 5 Coast Guard Meritorious Unit Commendations, 7 Coast Guard "E" Ribbons, Navy Occupation Service Medal, 3 National Defense Service Medals, 2 Humanitarian Service Medals, and 2 Coast Guard Special Operation Ribbons.
Tom did extensive weld repairs to the USS Acushnet
Ketchikan Public Utilities
Ketchikan"s Home Grown Utility Water, Power and Telephone for more than 7 Decades By DAVE KIFFER
Ketchikan, Alaska – For more than 70 years, KPU – or Ketchikan Public Utilities as it is officially known – has been a constant, and sometimes controversial, presence in the lives of local residents.When the city of Ketchikan decided to purchase Citizen"s Light, Power and Water from a Minneapolis holding company in the mid 1930s, Ketchikan became the first community in the United States to own water, telephone and electrical utilities. Read more here.
M/V ORAL FREEMAN
The M. V. Oral Freeman is our newest ferry. It is 116" 6″ long and has a beam of 48 feet. It was the first ship built by Alaska Ship and Drydock in Ketchikan, Alaska. The Oral Freeman is in service on a daily basis. It has a crew of two, a captain and a deckhand.
SPS Technologies
SPS" product offering is focused on technically sophisticated components and materials that are necessary and vital to key end-user markets such as aerospace, transportation, power generation, racing, farm and construction equipment and general industrial. Common characteristics include: Market Leader in Most Product Niches
In most product niches, SPS is either the leading manufacturer or one of the two or three leading manufacturers. Proprietary Metals and Fastening Technology A major emphasis on product development has resulted in the creation of many high temperature, high tensile, corrosion resistant and other special property materials, which have been designed to meet very demanding customer specifications. State-of-the-Art Forging and Machining Technology
Significant investment in forging and machining tool equipment coupled with sophisticated tool and die design has led to the development of many proprietary manufacturing processes, which enable SPS to provide customers with unique solutions to their product performance problems.
Bob Ellis
M. V. BOB ELLIS
The M. V. Bob Ellis is 100 feet long and can accommodate 15 vehicles. The "Ellis" has been in service for the Airport Ferry System since 1987. The vessel normally has a crew of two, a captain and a deckhand. "Bob Ellis was a true pioneer, instrumental in developing aviation in the state of Alaska and helping make Alaska Airlines a success," said former Alaska CEO Bruce Kennedy. "He was a warm person with a ready smile and a good story to tell." Born and raised in St. Albans, Vermont, Ellis entered the U.S. Naval Academy at age 16, but left two years later when he learned that only a small portion of his class would receive commissions due to military spending cuts following World War I. A friend from Annapolis who grew up in Seattle invited Ellis and his brother Vic to come to the timber-rich Pacific Northwest. He worked in lumber exporting for a time, but joined the Naval Reserve in 1926 and became a pilot. In 1929, just months after receiving his commercial transport license, he served as navigator on the plywood floatplane—a Lockheed Vega—that made the first nonstop flight between Seattle and Juneau. Ellis had been enlisted to plot the course for the pilot of the historic flight, but purposely complicated the plan so the pilot would have to take Ellis along. Nearly eight hours later, with a hero"s welcome, the native New Englander and one-time cadet at Annapolis was an Alaskan for life. Over the next six years he flew all over Alaska for a variety of airlines, in all kinds of planes—landing on everything from ice fields to river bars. He always maintained a wonderful sense of humor—even in the face of close calls, daring rescues and challenging weather. Ignorance, he said, was the worst enemy of early-day Alaskan pilots. There were no flight or aircraft manuals of any kind, and radio and instrument technology was a ways off. "Once we got our license at 200 hours, we were on our own, and the only thing you learned was something you discovered by yourself or you gained by talking with other pilots. And there usually wasn"t another pilot around to talk over things—like wingtip stall—which is important to know," he said in the book Heroes of the Horizon. "When I discovered it I didn"t even know the name for it." In another book, Alaska Bush Pilots—The Float Country, he said, "We"d go on for days, flying all over hell into areas that weren"t even on the map. Every flight back then was a grand adventure." In 1936, with a four-seat, single-engine Cabin Waco floatplane, he founded Ketchikan-based Ellis Air Transport (later renamed Ellis Airlines). Business grew steadily with Bob"s dedication to customer service. In the tiny villages he served in Southeast Alaska, for instance, he"d take orders for groceries before flying back to Ketchikan. People would also trust him with their paychecks, knowing he could be counted on to return with carefully identified envelopes full of cash. At Christmas, he"d dress up to become "The Flying Santa Claus," landing in the villages to pass out candy to the children. His reliability, willingness to lend a hand, quick wit and gentle manner carried him far, not only in business, but in politics too. He served in the Territorial Senate and was mayor of Ketchikan. When the Navy called Ellis to serve as a squadron and air station commander during World War II, his wife, Peg, and two trusted employees kept the business going. He was commanding the squadron based on Kodiak in 1944 when President Roosevelt made a surprise visit en route from Hawaii to Washington. D.C. Ellis" exaggerated stories about Alaska bears and Matanuska Valley strawberries are reported to have had the President in stitches. After the war, with a growing fleet of war-surplus Grumman Goose aircraft, Ellis Airlines prospered, forcing Bob to hang up his goggles and focus on management. Ellis Airlines Grumman GooseIn 1962, Ellis joined forces with Alaska Coastal Airlines, a Juneau-based carrier operated by fellow pioneers Shell Simmons and Ben Benecke. The merger of their combined company with Alaska Airlines six years later brought Bob to the Alaska Airlines board of directors, where he served for 13 years before retiring in 1981 as director emeritus. He and Peg had two sons, Mike and Peter, and a daughter, Sabra Jenkins. The final chapter in the extraordinary run of the legendary bush pilot who founded one of the carriers that forms the Alaska Airlines of today came on May 8, 1994, when he died at his home in Ketchikan. He was 91.
Point Higgins Elementary School
We believe Point Higgins School is unique because we truly are a neighborhood school. We believe that this family environment, grounded in mutual respect, promotes a deep sense of caring about each other and our children. We regard our students as extensions of our own families. We share their dreams and work diligently to insure their successes.

We, the Point Higgins" staff, believe the neighborhood school at Point Higgins supports students and families in achieving success by developing lifelong learners who: value themselves, contribute to their community, and succeed in a changing world.